AHS Seniors and Parents: Reminder that Senior Life Impact Award and Senior Slide Show pictures are due to Google Classroom next Friday, April 21. See below for all other important dates for seniors! Only 15 more school days left until graduation!

Congratulations to senior Thomas Midgett for receiving the Gold Medal in Technical Computer Applications at the SkillsUSA competition this week. He was named the State Champion in this field and received a Full-Tuition Scholarship to the University of Arkansas Community College at Morrilton. We are proud of you, Thomas!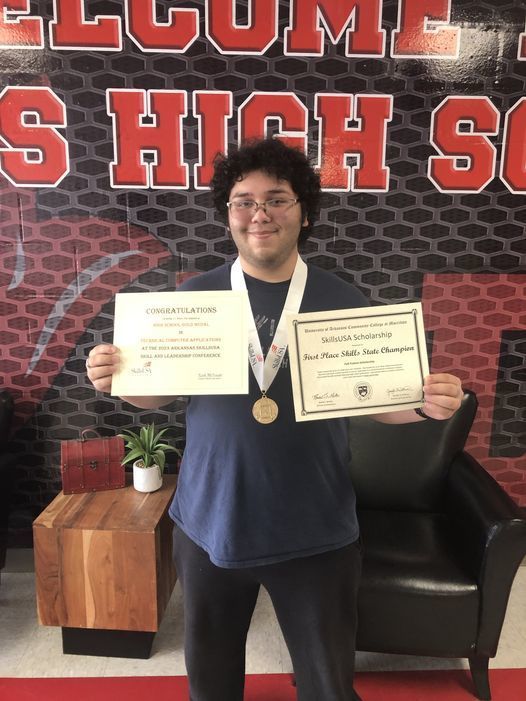 Due to the forecasted inclement weather and a threat of unsafe travel conditions, Atkins School District will implement an AMI day tomorrow, Thursday, Feb. 3rd.  All buildings and district offices will be closed.  The weather and travel conditions will be re-evaluated on Thursday afternoon to determine a plan for Friday.

Due to another spike in positive cases, all buildings in the Atkins School District will require students, staff and visitors to wear a mask indoors. Masks will also be required on buses. The mask mandate will be in effect for two weeks. We will continue to monitor the cases in our district and community and notify you of any changes. Thank you for your cooperation and understanding.

Atkins Elementary School has hit our threshold of positive cases; therefore, beginning tomorrow, Thursday, January 20, AES students and staff will be required to wear a mask for the next 2 weeks. All students (K-12) will be required to wear a mask on the buses as well during this time period. We will continue to monitor our cases and update as needed. Thank you for your cooperation and understanding.

Due to the rapid increase in the number of students and staff that are currently sick and/or quarantined, the decision has been made to transition to AMI instruction for the remainder of the week. This time will allow for the required quarantines to be completed as well as disinfecting and deep cleaning of our facilities and buses. Your child's teacher will be available via email during school hours during the AMI period. All extra curricular activities will be canceled for Wednesday, Jan. 12th through Monday, Jan. 17th. If you would like meals during the AMI days, please contact the Child Nutrition Office at 641-7516 by 9:30 am on Wednesday, Jan. 12th. Meals will be available for pick up between 11:30 am - 2:30 pm on Wednesday at the back of the K-8 building for all students K-12. AMI packets were sent home earlier in the year; however, if you need additional packets you can contact your child's school office on Wednesday between 8:00 am and 3:00 pm. AMI packets are also available online at the AES and AMS website. AHS will share their AMI packets through Google classroom.
Welcome to our new website!