Regional Tournament games scheduled at Lamar have been bumped back one day and will begin on Friday. Lady Red Devils will play at 4pm on Friday at Lamar.

With the possibility of winter weather and out of an abundance of caution for our students and staff, Atkins School District will implement an AMI day today, Wednesday, February 23rd.

In observance of President's Day, Red Devil Days will not be in session on Monday, Feb. 21st.

Covid-19 Protocol Update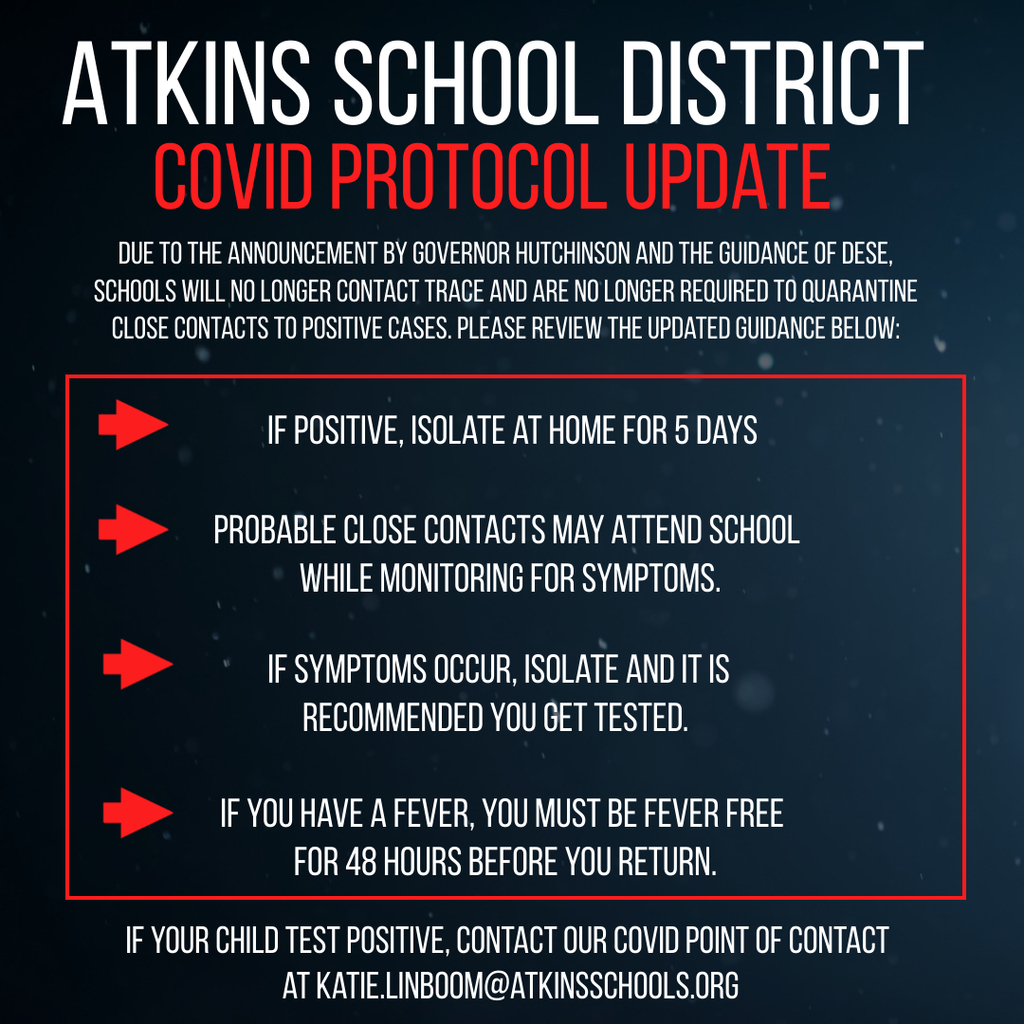 Atkins School District will continue to implement an AMI day tomorrow, Friday, Feb. 4th due to unsafe travel conditions and continuing winter weather. All buildings and offices will remain closed on Friday and all events will be rescheduled. Stay safe and stay warm, Red Devils!

Due to the forecasted inclement weather and a threat of unsafe travel conditions, Atkins School District will implement an AMI day tomorrow, Thursday, Feb. 3rd.  All buildings and district offices will be closed.  The weather and travel conditions will be re-evaluated on Thursday afternoon to determine a plan for Friday.

Due to another spike in positive cases, all buildings in the Atkins School District will require students, staff and visitors to wear a mask indoors. Masks will also be required on buses. The mask mandate will be in effect for two weeks. We will continue to monitor the cases in our district and community and notify you of any changes. Thank you for your cooperation and understanding.

Atkins Elementary School has hit our threshold of positive cases; therefore, beginning tomorrow, Thursday, January 20, AES students and staff will be required to wear a mask for the next 2 weeks. All students (K-12) will be required to wear a mask on the buses as well during this time period. We will continue to monitor our cases and update as needed. Thank you for your cooperation and understanding.

Due to the rapid increase in the number of students and staff that are currently sick and/or quarantined, the decision has been made to transition to AMI instruction for the remainder of the week. This time will allow for the required quarantines to be completed as well as disinfecting and deep cleaning of our facilities and buses. Your child's teacher will be available via email during school hours during the AMI period. All extra curricular activities will be canceled for Wednesday, Jan. 12th through Monday, Jan. 17th. If you would like meals during the AMI days, please contact the Child Nutrition Office at 641-7516 by 9:30 am on Wednesday, Jan. 12th. Meals will be available for pick up between 11:30 am - 2:30 pm on Wednesday at the back of the K-8 building for all students K-12. AMI packets were sent home earlier in the year; however, if you need additional packets you can contact your child's school office on Wednesday between 8:00 am and 3:00 pm. AMI packets are also available online at the AES and AMS website. AHS will share their AMI packets through Google classroom.

The 7th grade game against Danville on Thursday has been canceled. The Junior High game will start at 7pm. Go Red Devils!

The volleyball game next Tuesday (9/28) vs Rose Bud will be played AT Rose Bud. This is a make-up game from earlier in the season. Go Lady Red Devils!

Beginning September 20th, masks will be strongly encouraged and only mandated if the building reaches 5 or more positive Covid-19 cases. Each building will have an independent number to determine if masks will be required. If masks are required due to positive cases, it will be communicated through our website, email, text and a messenger call. All buses will still require masks. Communication will be frequent - please watch Facebook and our website for more information.

The Sonic Blast with Double R Randy Rainwater and 103.7 The Buzz will be at Red Devil Stadium from 4:00 - 7:00 pm. Come out and enjoy the fun, games and prizes as we show our Red Devil Pride!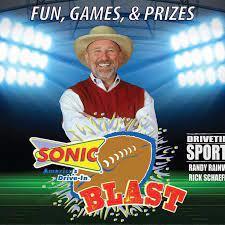 Conway Christian has canceled the 7th grade game at CC Thursday (9/9/21). Jr high game will start at 7:00 pm. Go Red Devils!

Spirit sales are due Thursday to Mrs. Farmer! Don't miss out on ordering Red Devil gear!
Kindergarten Graduation May 25th 6pm at AHS Auditorium
HS Graduation May 13th 7pm at Lemley Field at Sorrels Stadium

Welcome to our new website!